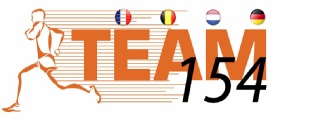 GUEST BOOK
DONATE BUTTON
Dear all,

This year I will be participating in the Roparun 2020.

A relay race from Bremen to Rotterdam with the aim of raising money for palliative care for people suffering from cancer.
Our slogan is:
"Add life to the days, where often days can no longer be added to life!"

Our team goes by the name of TEAM 154, and on 30th of may 2020 (Pentecost weekend), 8 runners (including myself) will run 565km in 48 hours from Hamburg to Rotterdam.
Day and night. It is the world's longest non-stop relay-race for charity.
Do you want to help us make life of cancer patients more pleasant?


For donations please go to: :www.roparun.nl/nl/teams
Team154 select team member :
Countdown to may 30 Th 2020
start of Roparun from Bremen